A primary area of maintenance of any commercial roofing system are sealants and caulking. Often a sealant exposed to the harsh roof top environment will deteriorate before the roofing system has reached the end of it's lifecycle. Ensuring that sealants are intact and doing their job is a great way to extend the life of the roof on you building.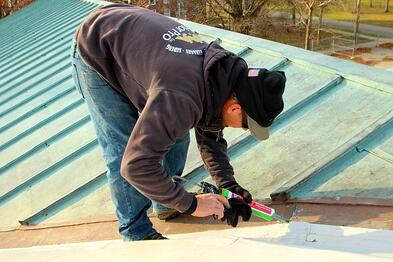 However the road to roof leaks is paved with good intentions, and by not choosing the right sealant for the job you might not only be wasting you time, you may actually damage your roof. Acrylic painters caulk is not going to work on rubber roofing and applying tar to a PVC roofing membrane will not only void your warranty but destroy the membrane.
Here are a few ways you can make sure you have the right sealant for the right job.
Learn what type of commercial roof you have and then purchase sealant for that specific type of roof rather than purchasing a random caulking and hoping it seals.

If you are not sure of what type of roof you have take pictures and show them to the staff at your local roofing supply house. Lumber yards and box stores are great for certain items but don't alway stock commercial grade roofing products. The staff at a supply house that specializes in commercial roofing products will be more versed in commercial roofing is more likely to have what you need on the shelve.
If at all possible buy the sealant and caulking of the same manufacture as the roofing on your building. All major roofing manufactures promote their specific commercial roofing system and prefer or even mandate that only their sealant be used on their roofing system in order to maintain warranty.
Now that you have the correct sealant to go along with your commercial roof here are some helpful tips to applying sealant
Most all roofing sealants adhere better to a dry surface. Let the sun burn off morning dew before caulking or give wet roofs a chance to dry after a rain
Commercial roofs can be very hot environments during summer month and some types of sealant will run in the heat especially on walls or other areas where caulking is needed vertically. Re-visit areas where caulking is installed vertically to ensure proper sealing has occurred
Caulking and sealing in the cold weather can mean that material is tough to get out of tube. Try heating tubes at room temperature before going roof top. It will make you job much easier.
If the sealant or caulking is thin or tends to run and you have a large gap to fill try using smaller beads and letting them dry so you can build on them. Filling in a large gap all at one with a thin sealant is almost impossible as caulking will run and not seal up gap.
On average you can plan on getting around 20' Lineal Feet per tube so plan accordingly
For cleaner looking beads of caulking in detail areas start off by cutting a small opening in the tip of the caulking tube, you can always open it up more but you can not close up a tube that has a opened all the way up.
Finally, don't skimp on the caulking, buying and installing few extra tubes is still going to be less expensive than making the second or third trip out to seal what could have been sealed up the first time out. As with all building maintenance be smart and be safe