There is no denying that metal roofing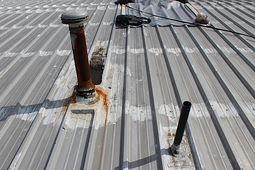 will leak sooner or later. But, whenever your roof leaks, it is too soon for you – especially when your inventory, shop, or supplies are threatened.
Causes:
Frankly, most problems with metal roofing arise from poor installation at horizontal or vertical seams, gutters and ridge caps, or areas around skylights, hatches, and flashings.
Worsened by:
Some problems are worsened by misuse or lack of care, such as foot traffic or clogged gutters, loosened or overly tightened screws, contraction or expansion of the roof, or plain old age, or degradation of sealant in key areas.
Rust because of:
Rust is metal's biggest enemy and results from deterioration of coatings and exposure to air and rain borne elements or the broken seams from foot traffic and equipment placement.
Treating rust
Rust on a metal roofing can be treated - in small spots or easily reachable locations - on a garage or storage shed.
Locate the rusting spot is not always an easy task because it is not always just above the leak.
Clean the spot of rust, dirt, and mildew with a power washer or sand blaster. Use Trisodium Phosphate for difficult stains.
Paint with a zinc primer and cover with an acrylic coating.
Or, hire a professional because you do not want to risk further damage to the roof - or to yourself from falling or toxic chemicals.
You can plan on doing this again soon as, once rust has started, it will spread like contagion. Moreover, just how would you plug a rusted through hole in do-it-yourself mode?
A rusting roof is nature's call to re-roof your building entirely or to roof over it with the protection of Duro-Last.
A fluted decking system is installed right over your metal roof without tearing out the existing roof.
Insulation panels are placed between the fluting-ribs.
A pre-fabricated membrane is placed above the insulation and fastened to the decking.
Pre-fabricated fittings for protrusions like spouts or vents are fitted and heat-sealed to the membrane. This creates a monolithic whole defying damage and hostile winds.
The single-ply membrane is manufactured to custom measurements in a factory under quality control standards. Manufactured off-site, it is built and installed with a minimal disruption of your business operations. This vinyl membrane is a thermoplastic combination of PVC resins, stabilizers, UV ray absorbents, and fame retardants. Two layers of PVC are laminated to a tight woven scrim for strength and stability. And, the white color choice is EPA Energy Star rated as reflecting 87% of sun-rays to reduce your energy costs.
So, when leaks threaten your metal roofing and your business, you have a couple choices. You repeatedly patch the ageing roof, or your re-invent it with a new look, an energy saving resource, and a roof with a 15 to 20 year warranty.