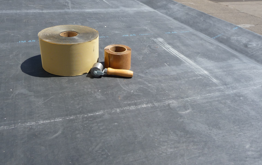 A well-maintained roof is as important to a building's integrity as a solid foundation. It is the first line of defense against weather and all of its extremes. An EPDM (rubber) roof stands up well to the abuse it may experience, but, as with all types of roofing, may suffer damage. You should inspect your EPDM roof at least twice a year, preferably in the spring and fall.
Begin UNDER the roof. Look for signs of leakage such as stains on walls. If the roof deck is metal, inspect for rust. Note the location of any possible problem. When you are up on the roof, you will want to inspect those areas with extra care.
Up on the roof, take an overview first. Note any debris or water ponding. As you begin your closer inspection, take note of these things:
Soft spots. These could signal moisture in the decking or insulation.
Separations, wrinkles, or openings - especially around laps (where one sheet of the EPDM overlaps another) and perimeter flashing.
Cuts, punctures, or tears.
Raindrop-size moisture spot. If there is moisture in the substrate, the warmth of the sun can draw it out through a pinhole in the rubber.
Areas of particular concern:
Seams
Roof-wall junctions
Vents and other penetrations (where something is sticking up out of the roof)
Areas with roof-mounted equipment, especially if repair or service personnel have visited. Check for spills and damage caused by dropped tools.
These problems with EPDM roofs should be kept in mind when performing your inspection:
Shrinkage of 1-2% is common. This can add up to several feet over a large roof. This will show up at roof edges and seams.
Uncured rubber used as flashing. Older roofs may have this issue. The uncured rubber is easier to mold, but becomes brittle.
Chemical damage. Grease, animal fats, and petroleum solvents compromise EPDM.
Direct steam venting from HVAC equipment can cause damage.
If your inspection turns up any problems, it's time to contact a roofing professional. Repairs done by someone without the proper knowledge and expertise can create even worse problems. A patch or seam repair done with the wrong kind of adhesive will degrade the EPDM. An amateur roofer could inadvertently cause rips or tears with his tools. A trusted professional roofer will advise you on repairs or, if necessary, replacement of the roof. There are many options available. A full tear off of the damaged roof may not even be necessary.