If you're looking for attractive and cost-efficient roofing options for your next project, metal roofing is definitely an avenue to explore. Metal roofing holds a number of advantages over other common roofing materials. It is tough, long-lasting, virtually maintenance free, and energy efficient, factors that make it a very practical and economical roofing alternative for commercial building or remodeling projects.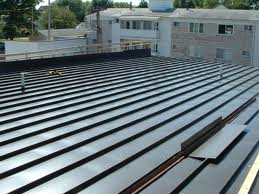 Metal roofs are unbeatable as far as durability and longevity are concerned, typically lasting two to three times longer than roofs constructed from other common materials, with an average expected lifespan of 40 years. Strong and sturdy, a metal roof will hold up against the elements, undamaged by high winds, hard rain, heavy snow or hail that may tear apart shingled roofs. Today's quality metal roof materials are sealed against corrosion and rust, impact resistant and stand strong against fire damage, qualities that contribute to the exceptional longevity of these products.

Metal roofing is a very cost-effective option for commercial buildings. Whether you choose a Duro-Last prefabricated roofing system, sheet metal or a standing seam roof, installation will be faster, easier and less costly than building a typical shingle or shake roof. A metal roof can save on heating and cooling costs, its reflective surface making your building more energy efficient. A professionally installed and properly sealed metal roof will save you money on maintenance as well, remaining leak-free for many years without the frequent patching and repairs necessary shingle or shake roofs.

Last but not least, metal roofs are much more attractive than they used to be, available in a wide range of styles, colors and finishes. Whether your next project will be a simple, utilitarian commercial space or an elegantly designed office complex, you're sure to find just the right look among the many modern metal roofing options available today.