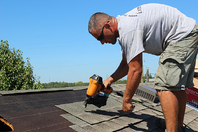 All contractors are not created equal. Whether you're considering a contractor for the first time, or simply seeking improved services, learn what sets Exterior Pro apart from the rest.
1. What products do you install?
Your contractor is only as good as what's left behind when the job is done. Exterior Pro is highly selective of the products we install in your home or business. These products have been tested, proven, and consistently demonstrate results for our customers.
Our strong relationships with the manufacturers guarantee our familiarity with the product, along with direct support and resources from our representative.
2. What warranties are included?
With Exterior Pro, you are guaranteed quality, durability and long-term product performance, as well as the peace of mind that comes from the industry-leading warranty programs.
3. What am I really paying for?
It's simple. You pay for the amount of talent needed to complete your job – and the time it takes them to install – along with your materials and expenses.
At Exterior Pro, our efficiencies with our products and processes enables us to get the job done quicker, and better, with smaller teams of more highly skilled individuals.
This means that you invest more of your available budget toward the highest quality products for long-term performance. We also take wholesale delivery of our products at our shop to keep pricing competitive.
4. Who will be spending time in my home or business?
We hold our professionals to the highest standards of workmanship and ethics. From extensive pre-screening and background checks, to ongoing training and certifications, you can trust the team on your job. We are fully bonded, licensed and insured.

We also respect your time and property, getting in and out as efficiently as possible, and cleaning up, all without disrupting your day.
5. What do your customers to have to say?
The numbers speak for themselves. More than 70% of Exterior Pro's business comes from referrals, with 65% of customers choosing to work with us again. We also score incredibly high on our manufacturer inspection reports.
We value our customers as partners in the business. We deliver the planning, consultation and products that solve their challenges and enhance their home or business.