There are several clear and easy to see advantages of using the RhinoBond roofing system for both building owners and roofing contractors alike.
For both building owners involved in re-roofing projects and general contractors doing a new build, timing can be a critical factor. GC's have deadlines and other trades scheduled and building owners must keep their business operational during the re rooofng process.
Trained roofing contractors can use the RhinoBond roofing system to quickly and efficiently install a new roofing membrane; completing projects faster and in a much wider range of temperatures.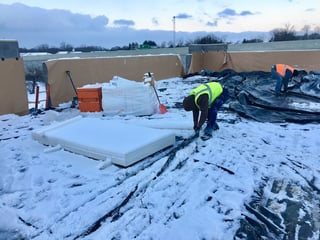 For re-roofing projects, the fast dry-in time means less mess, less noise, and less of a chance for leaks into your functioning business during the roofing project. Glue-down roofing or fully adhered flat roofing projects require temperatures of 40
oF
and up, limiting the time window for late year roofing projects. RhinoBonding can easily be done in sub-freezing temperatures making it possible to roof late into the year.
Less Cost, Same Performance
A RhinoBond style flat roof application performs like a fully adhered roof but at a much lesser cost. The savings come from a combination of labor and material. With RhinoBond, you're not paying for all the expensive adhesive or the man hours it costs to spread it. The membrane is " adhered " to the special plates installed in predetermined fastening patterns using the induction welding Rhino tool. The wide temperature range for installation means a roofing contractor has a longer season. Thus operating costs are spread out over a larger number of jobs each year which translates to more competitive pricing for building owners and GC's.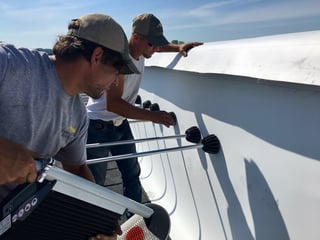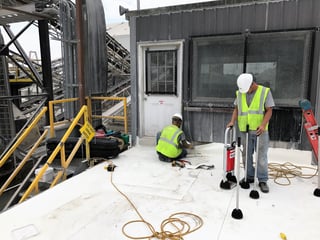 Sustainable Work Practices
Flat roofing work has traditionally been know as hot and heavy work and for the most part and remains that way even today. Demanding and hard physical work, day-in and day-out, leads to high turnover and younger, inexperienced workers because by the time a guy really learns the job, his body isn't able to do it.
However, RhinoBond roofing tools are changing that! RhinoBond has t
aken grueling and unsustainable commercial roofing practices, and has turned them into ergonomic and repeatable processes that don't destroy a workers body. This reduces turnover and allows older, more mature workers to stay in the business. Happier, healthier, and more mature roofers on site are definitely a benefit.
Doing your next flat roofing project RhinoBond style can save you time and money without sacrificing long term performance of your flat roof.