---
Let's be honest: metal roofing can be a bit of a pain. Coating alone can be difficult and expensive to deal with, but from the minute you decide to go with a metal roof, you're dealing with roofing that can cost up to six hundred dollars a square, roofing that is unsafe to walk on after it's rained, and roofing that can be very easy to dent, especially if you're using aluminum or copper.
But, if you're committed to metal roofing, then here are six things that you need to know when it comes time to coat your roof:
Metal Roof Coating can Cost More than a Whole New Roof
The price of coating your metal roof can wind up being considerably more than just buying a new roof. This is particularly true when it comes to doing a retrofit with a PVC membrane. If you love your metal roof, then by all means, coat it, but know that there may be a cheaper option available to you.
If You're Not an Expert, Get an Expert
You really should have an expert coat your roof if you're not sure how to do it yourself. You don't want to risk rust and leaking.
Color Counts
The color of your roof coating can affect insulation, heat and so on, as well as appearance. Lighter colors will reflect sunlight, which can be helpful in hotter areas.
Tape, then Seal
Using sealing tape before using the coating can help to keep seams watertight and cover up cracks in the surface.
Prepare the Surface
Before sealing your roof, you need to clean and dry your roof's surface. If it's covered in dirty or loose screws and nails then you're going to have a hard time sealing the surface.
Estimate 100 Square Feet Per Gallon, Per Coat
Finally, be realistic when estimating how much coating you're going to need. A gallon will coat about one hundred square feet, but only once. You may need two or three coats depending on material, location, etc. And remember to measure the roof, not the floor space, to determine how many feet you will need to cover.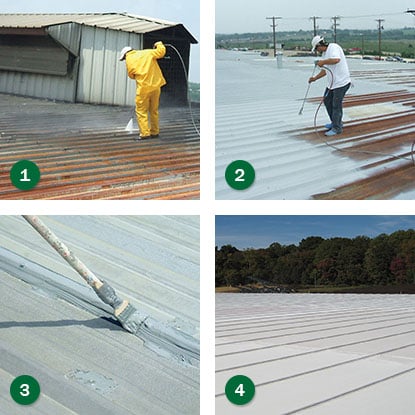 For some, metal roofing is just more trouble than its worth. The sound of rain tapping against the roof may be charming, but is it worth the extra cost or the easily dented surface?