---
When you are in need of a roofing contractor, you should ask a handful of pertinent questions. By asking specific questions about the contractor, their methods and their past projects, you'll have a better understanding of their ability to get the job done right. Below, we've outlined some of the best questions to ask of potential roofing contractors.
---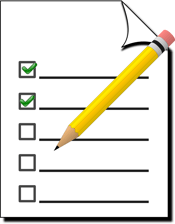 1. While it might seem a bit basic, you should find out if the roofing contractor has a physical address. You need to dive deeply into the background of candidates. If you uncover a candidate who operates from his own residence and uses his garage and work truck for storage, don't give him your business. You deserve the attention, commitment and extensive services provided by a legitimate roofing contractor that has an established business address.
2. Find out if the roofing contractor provides free inspections and estimates. Make sure that he'll actually come out to your home or business and perform the inspection and estimate in person instead of over the phone or based off of pictures that you e-mail to him. You need a roofing contractor who'll view your roof firsthand to understand the nuances of the issue.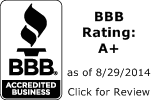 3. Find out how long the contractor has been in business for. If you have a list of candidates and some have only been in business for under a year, opt for the more experienced contractor. Let someone else make the mistake of doing business with an inexperienced contractor. While experience won't guarantee high quality work, it'll increase the probability of few significant errors being made during your project. One way to check out a roofing contractor is to go to the Better Business Bureau website.
4. Find out if the contractor has insurance. If you find a candidate without insurance, rule him out right away. He should have liability insurance in case he or any of his crew are injured on your property. Additionally, the contractor should have workers' compensation insurance as well. This way, you won't be liable for any expenses like medical care or lost wages in the event of an accident. Don't take a roofing contractor's word that he has insurance. Verify that the contractor has insurance by requesting physical proof.
5. Ask if the contractor is licensed. Make sure that he is licensed to work on roofs and his license must be applicable to your state. Customers should be aware that each state requires roofing contractors to be licensed. It's not an option. Check with your city / town's government office to see if there are specific local regulations that roofing contractors must meet to work on roofs in your area.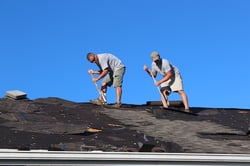 6. Ask if he'll remove your property's old roof. Believe it or not, some roofers actually shingle over an old roof instead of removing it. Doing so saves money and time. You need a contractor to pull up your old roof to determine if there is rotten wood or soft spots. If there are significant problem spots under your old roof, you'll have a very expensive problem down the line. Only hire a roofer who is willing to completely replace the old roof before installing a new one.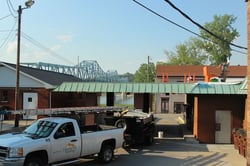 7. Find out if the contractor is willing to perform a full clean-up of the work site. This will include the complete removal of old roofing materials. Not only should he remove them from your property, he should also cover the cost to do so. Don't assume that this is part of the job. Otherwise, you might end up with piles of discarded materials on your property that you'll have to dispose of yourself.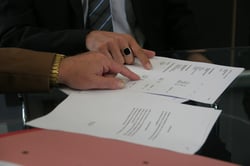 8. Ask if he always provides a written contract for each job. The old days of a gentleman's agreement with a handshake are long gone. You need written documentation of the job to protect your interests if something goes wrong. Make sure that the contract is written clearly, covers all the relevant details and explains how long the job will take to complete. The contractor should also be able to put the brand of the materials in the contract along with a list of their cost as well as the cost of labor.
9. Ask if there is a warranty on the workmanship. Materials don't last forever so find out if the ones that he uses on your roof are covered through a manufacturer's warranty. This will be critical in case there are problems with your roof in the future. Always make sure that the proof of the warranty is in writing and that you've saved a copy for your own personal files.
10. Ask for references. A roofing contractor who has completed past jobs with success should be willing to provide the contact information of past customers. Contact these customers and ask if they are happy with the contractor's work.