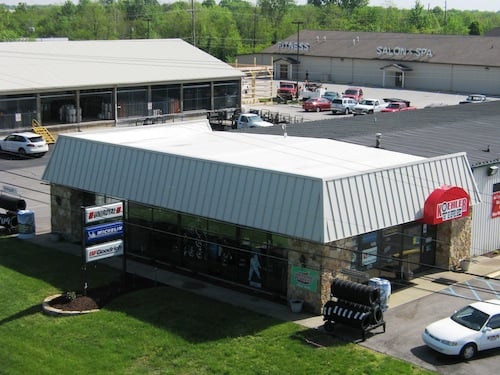 Koehler Tire has provided Madison, Ind., with quality tires, wheels and auto repair since 1929. The building is 10,000 sq. ft., with a 1,700 sq. ft. showroom and counter area topped by a mansard roof—a roof distinguishable by its steep, two-angled sides, the upper portion of which is not visible on the ground level.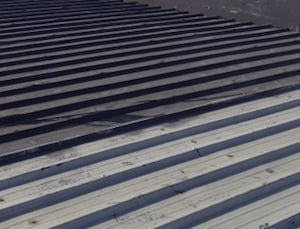 In Koehler Tire's case, the steep, outward facing sides were covered in Spanish tile, which was crumbling and needed to be replaced. The upper portion was a metal roof coated with a black-tar sealant that had begun to fail.
Koehler Tire has built its reputation on exceptional customer service. When owner Dave Ungru was ready to fix the leaky roof over his showroom, repairs had to take place without disruption to customers. That's when he called Exterior Pro.
Roofing Repair Without Disrupting Business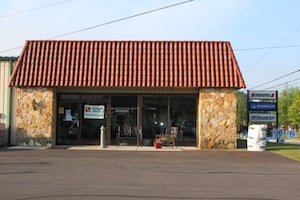 Koehler Tire does a high volume of retail business between the hours of 8 a.m. and 5 p.m., with many customers coming in and out of doors located directly below work areas. Overall, the job presented a number of unique challenges, including:
Removal and clean up of the Spanish tile.
Installation of a new roof directly above the retail space, while avoiding business disruptions.
Staging the material properly so as not to limit the amount of parking available to customers.
To overcome all these obstacles, we put detailed plans in place and worked around Koehler Tire's schedule to ensure there were no disruptions.
The Customized Metal Roofing Solution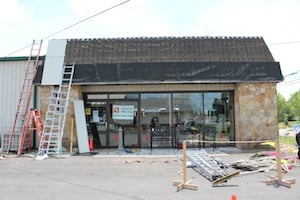 To accommodate business hours, our crews began removing the Spanish tile and clearing away debris at 5 a.m. each morning, well before employees showed up at 7:30 a.m. and the business' doors opened at 8 a.m.
We then installed ice and water guard sheets to the exposed plywood, protecting it until the new metal roof panels were installed. We customized a piece of metal trim to brace the metal roof panels, as well as to serve as a channel for the new soffit underpinnings. It also created a professional appearance.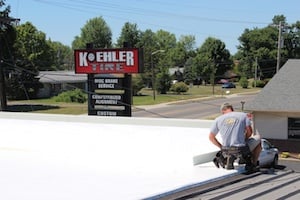 In the next phase, we began a metal roof retrofit of the upper-sloped mansard roof section. We determined that the most cost-effective way to create a long-lasting roof exterior was to install Duro-Last® membrane directly over of the existing metal roof. The solution would eliminate the need for costly roof tear-off and unwanted disruptions within the building.
Our team worked quickly and efficiently, covering the 1,700 sq. ft. with just two prefabricated sheets. After installing two-way air vents in the membrane, the Duro-Last® seams were heat welded to create a watertight barrier. To finish the project, we installed a new coping cap that sealed both the new metal roof panels and Duro-Last® material.
Exterior Pro Roofing completed this job quickly and efficiently, keeping Koehler Tire's customers dry and avoiding any inconvenience.
What the Customer Had to Say:
"3 years ago we had roof leaks in our showroom. I choose an out of town company that advertised heavily to come in and look and quote the job. I awarded them the job. They came in and sprayed a coving over my roof. This only lasted for 3 years until the leaks reappeared.
"I called Aaron @ Exterior Pro after I saw their new building on Clifty Dr. I was very impressed with his professionalism. He went onto my roof and came back with pictures so I could see the damage. He demoed and showed me the product they would use and explained to me how it worked. I was even more impressed with his proposal. His prices were half of what I thought they would be.
"Being impressed by him, I also had his company quote a new face for the front of the building along with adding on additional warehouse space for us. I gave him both jobs. His people were very easy to work with. They cleaned up everything and were very considerate of my retail environment and worked around. I was completely satisfied with the job I received from Exterior Pro!"