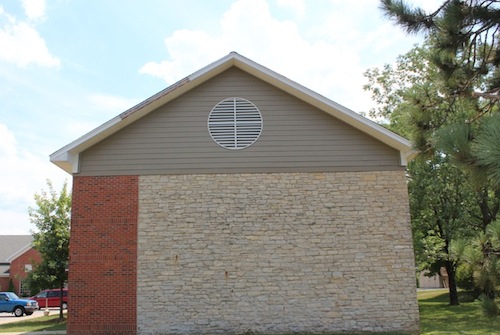 Clifty Inn is located amongst the rolling hills of Southern Indiana, overlooking the beautiful Ohio River, in Clifty Falls State Park.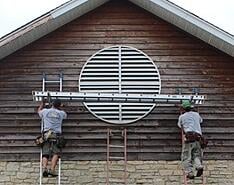 The building includes four, 30-ft. tall gables—triangular wall sections created by sloping roof edges—with a large gable-end vent in the middle. The old-cedar siding protecting these wall sections had reached the end of its life, and the state park wanted to replace it with a siding capable of standing up to the harsh Midwest weather.
HardiePlank and a Plan
To provide the required durability and maintain consistency with the building's cedar siding, Exterior Pro recommended HardiePlank, which is a fiber cement siding that offers a real wood-grain appearance and excellent weather-resistant qualities.
Because the hotel was fully booked and needed to function as normal, Exterior Pro created an installation plan that focused efforts on completing one gable each day. By taking this approach, we could consolidate noise, debris and crew to one section of the building per day, and complete all work within a week.
HardiePlank Installation Without Disruptions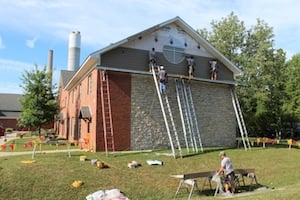 We started each day on the job erecting barricades around the work area, and then tore off the old siding. Several crewmembers cleaned up the workspace, while others installed DuPont's Tyvek—a high-density material that provides an extra layer of insulation from water and air—on the exposed wall section.
We cut angles and a space for the gable vent into the HardiePlank using a dust-free, handheld cutter; without the proper tools, airborne particles from this material can be toxic. As necessary, these handheld cutters were also used up on the ladder to trim the siding to fit perfectly in between the roof edges.
When it came time to secure HardiePlank to the wall, our crews used a specialized tool called a Gecko Gauge to stabilize and level the siding while it was nailed down. To protect the butt joints, we installed Bear Skin—a plastic flashing sheet used to keep water and wind-driven rain out of the joint.
We finished the job by trimming the soffit box with HardieTrim. Because the HardiePlank is prefinished, we did not have to paint it, but we did touch up a few small scratches and dings that may have occurred during installation.
The end result was a quick, clean fiber cement siding installation that didn't disrupt the inn's operations.