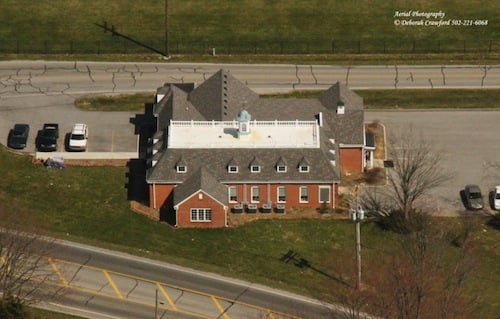 The Jefferson County Public Library serves the southwest portion of Jefferson County, Ind. The building's roof is a 1,200 sq. ft. area protected by an EPDM rubber membrane. When leaks appeared around the seams and drains, the library staff called Exterior Pro Roofing.
Repairing the EPDM Rubber Roof with Minimal Disruption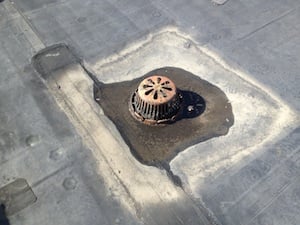 As a public facility with high foot traffic, we needed to carefully plan this roofing project with consideration to minimize disruptions for the library's daily operations. In addition, a decorative railing needed to be removed one post at a time and then reinstalled on top of a new membrane.
Fortunately, our assessment confirmed that existing insulation and decking were not saturated. Therefore, Exterior Pro Roofing recommended installing a Duro-Last® commercial roofing system directly over the failing EPDM membrane. Duro-Last is 100% compatible with EPDM, and doesn't require any roof tear-off, which made this a quick and cost-effective solution.
Duro-Last Installation and Rooftop Railing Repairs
First, our team cleaned dirt and debris from the existing roof and then laid two custom Duro-Last® sheets. By splitting the building into two deck sheets, the installation was quick and there were fewer seams that could potentially leak.
Much of our time was spent performing detail work around the decorative railing and a structural cupola—a smaller roof section protruding from the main roof. We removed each railing post, installed Duro-Last underneath them, and then reinstalled the railings. We then created a watertight seal around the railing posts with Duro-Caulk.
The job went exactly as planned—allowing visitors to use the library undisturbed. That made everyone happy, especially the library's staff.
What the Customer Had to Say:
"I found Exterior Pro to be thoroughly professional in all my dealings with them. They replaced (or rather covered over) the flat rubber roof on the central portion of our Jefferson County Public Library branch at Hanover. Mr. Perry returned calls promptly, arrived when he said he would arrive, and did the job by the date promised.
"I was present at the inspection of the roof which was conducted by representatives from Duro-Last. The inspection was thorough and took several hours and involved checking each seam with a small metal pry bar and replacing any welds that were not completely sealed.
"Mr. Perry is knowledgeable about his product and about roofing in general and always comports himself with a professional demeanor. I never had any doubts that he would do a good job on our roof. I would use this company again, and, in fact, I am having Exterior Pro back this spring to inspect the roof on our main library."
Brent Stokesberry, Director
Jefferson County Public Library