Jeffersonville, Indiana Roofing
Exterior Pro Inc provides several commercial roofing services. We have highly skilled technicians for flat roofing, metal roofing, and asphalt shingle roofing. If your business is looking for a roofing contractor, Exterior Pro Inc. is the company to call.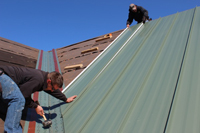 We bring our expertise to Jeffersonville, IN to meet your needs. Exterior Pro Inc. gets in, gets the job done and gets back out. All in a safe work environment, we are quick and efficient with our clean up once we're through. We proudly serve the Southeastern Indiana and the Greater Louisville KY area. We also service the greater Cincinnati area. Contact us today to discuss your project and its proximity to our general service areas.