Leaking gutters had allowed water to enter the exterior brick wall of the Spencer Dental practice causing the paint and plaster to bubble up. unsure if the problem was a roof leak or a gutter issue, Dr. Spencer reached out to Exterior Pro for answers and advice.
What we found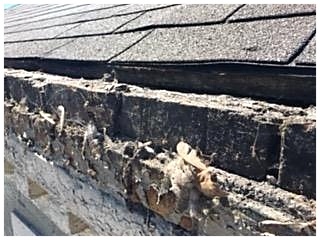 The old steel gutters had rusted and the seams had come apart allowing water to leak into the wall behind it also. The Fascia board that the gutters attached too was barn wood and was not covered with fascia metal. The gutters were filled in incorrectly because of settling over time. All of the factors led to wet walls inside the practice especially during winter months.
Solving the gutter issue
Exterior Pro proposed a multi problem solution, which included, new seamless gutters, wrapping the fascia board with aluminum fascia, and then installing a gutter guard. Gutter guards would prevent clogs and eliminate the need to clean the gutters.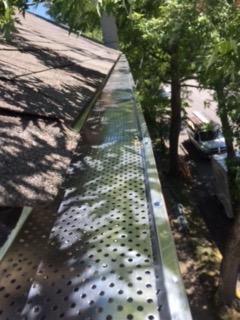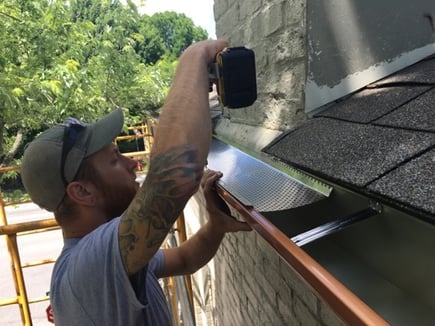 Good set up leads to great results
Because of the height of the building scaffold had to be built around the outside walls in order for worker to have good access to the gutter and fascia board. With most projects its the preparation that leads to great results.
After a big set up and prep the new copper looking gutter went on smooth and easy.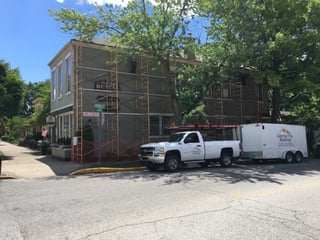 The new seamless gutters not only had a look that imitates copper, they were also bigger and of a heavier compound grade of aluminum 032. We also replaced the existing down spouts with much longer downspouts.
The job went well and in three days the guttering project was finished. We swept the sidewalk after breaking down the scaffold.
The new gutters looked great and have already received many compliments.