The persistent leak
Greve's TV & Appliance is a family owned and operated business located in historic downtown Madison, Indiana. They have served the local community since 1970 by providing sales, installation, and repair of major household appliances, TV's and tempur-pedic mattresses.
After small but persistent leak in the flat roof and box gutters grew large enough that a bucket was needed to catch water drops on the second floor they called Exterior Pro Roofing in need of a solution.
Historic building
Many of Indiana's older historic buildings have built in gutters or commonly known as box gutters and this was the case for Greve's TV. The buildings metal roof was fairly new being only several years old but the flat section had never been completely replaced or lined. The business owners had made several repair attempts over the years with metal roof coatings, calking and even tar but the roof leaks continued to appear.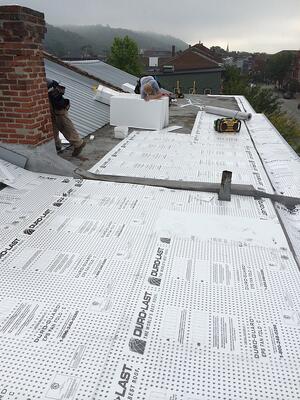 The water entering the building in the flat section had caused an internal leak damaging the ceiling on the second floor but the leaks in and around the box gutters allowed water to penetrate the old masonry causing the paint to peel off the brick and washing the mortar out of the joints. It left unchecked the work out flat roof could have caused very expensive structural damage to the front wall.
After evaluating the roof, Exterior Pro Roofing proposed lining the flat roof and box gutters with a PVC membrane and using a decorative edge trim to accent and protect the existing cornice work. The Greve's TV owners chose the light gray membrane and black trims to match the building.
Business as Usual
Exterior Pro ordered the material and scheduled the installation. Throughout the entire process of lining the box gutters and re-covering the flat roof, Greve's TV was able to remain open and fully functional. During the two day install, the new membrane was installed over top a new layer of insulation and then the roofing membrane was ran up under the tied into the existing metal roof. The only thing left was to set the new metal trims in order to finish the job.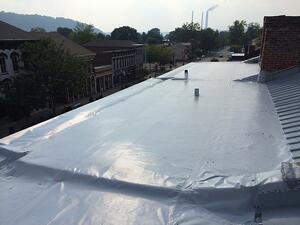 The new PVC flat roof and box gutter liner functioned as promised and the building is now leak free. The new roof received a 15 year warranty and the building owners do not have to worry about water damage or product loss when it rains anymore.