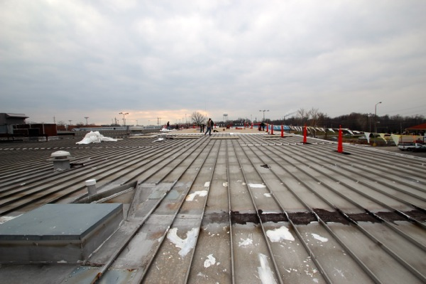 Wallers Meter, Inc., sells water and sewer equipment to residential and commercial customers, including homeowners, contractors, townships and city governments.
The largest water equipment distributor in southern Indiana, the company encountered water problems that its products couldn't solve when its headquarters' roof sprang several leaks. With the company's building at risk, Wallers Meter called Exterior Pro Roofing.
Exterior Pro Roofing Recommendations Save Time and Money
Leaks along 10,250 sq. ft. of standing seam metal roof threatened the company's headquarters. Most of these leaks were around HVAC units, pipe stacks and metal seams along the roof. In some areas, rust was also a problem.
Exterior Pro Roofing recommended a metal roof retrofit for this job, where roofing membrane is laid over an existing roof. This saves time and money. With a retrofit, the existing roof doesn't have to be torn off—saving time and expense.
Instead, the laid-over membrane provides high-quality protection from leaks for a fraction of the cost.
Complete Retrofit in Three Stages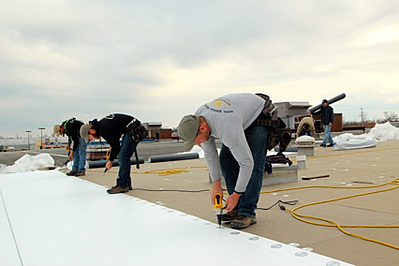 This job had three major stages:
1. First, Exterior Pro Roofing filled in the metal roof's pan with EPS flute filler. This material was placed between the ribs of the roof's standing seams to create a flat foundation for the recovery board. Recovery board is the name for any material placed over EPS. It forms the base that the roofing membrane is laid over. Exterior Pro used ridge ISO for the recovery board. This material provides extra insulation, which saves on long-term energy expenses—and costs less than comparable materials on the market.
2. With filler and recovery board installed, Exterior Pro Roofing prepared to lay over the new membrane. Architects often specify Johns Manville brand membrane for commercial buildings.
Exterior Pro Roofing chose a 45 mil. TPO membrane from the company, then mechanically attached it to the roof using screws and plates. Because the membrane was mechanically attached, it could be installed in any type of weather.
3. Last but not least, the membrane seams were hot-air welded for extra strength and precision.
A Quick and Easy Repair Thanks to Expertise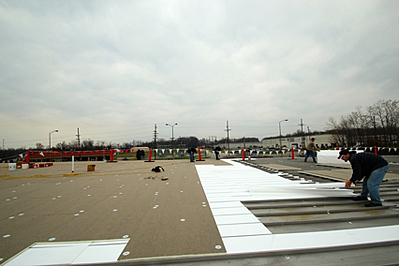 Thanks to a four-man team and Exterior Pro Roofing's expertise, repairs were short, clean and without issue.
Because of the metal roof retrofit work, this job didn't expose the building to the elements—allowing the customer to stay open during the repair work. Overall, it helped Wallers Meter. avoid lost revenue and kept customers happy.
The end result was a repaired roof with new membrane that carried a 15-year warranty, ensuring building quality for years to come.