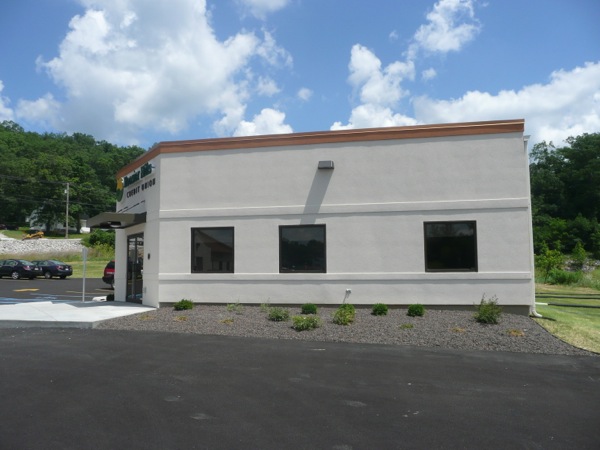 Hoosier Hills Credit Union in Paoli, Ind., located about an hour and a half west of Madison, needed more room, and started construction on a new annex next to the existing credit union building.
Exterior Pro Roofing was brought in to install a Duro-Last® membrane, 40 mills thick, over the 3,627 sq. ft. flat roof. This is a fairly easy project, but the challenge came in when we learned the construction schedule gave us 24 hours to complete the job.
The short turnaround was because construction crews were bringing insulation and drywall the next day, and the roof needed to be watertight by then to ensure nothing got wet.
Getting Started Early / Finishing On Time
Our crews started the drive to Paoli before the sun rose on Thursday morning. We arrived and started to stage our materials. We brought in a local crane operator to move materials to the roof deck. Our crews worked until 8 p.m. that night getting the roofing insulation and Duro-Last® membrane installed, sealed and tacked over the roof edges.
While the rest of the Exterior Pro Roofing crew drove home, Aaron Perry, Exterior Pro Roofing founder, got a hotel room and came back early the next morning to perform his own field inspection, and fix any loose welds.
When Aaron left the building on Friday, the entire roof was prepped for the stucco crews to come in and complete the building exterior, and construction crews had already installed about half of the insulation.
A couple weeks later, after the stucco crews completed the building exterior, Exterior Pro Roofing returned to install metal coping trim, copper-colored two-piece compression gutters around the parapet walls, and a 6-in. commercial gutter along the back of the building. We also set all the downspouts.
Despite the extremely short timeframe, our crews completed the roof on time so construction could continue on schedule. In addition, the inspector rated our work a 95, which is excellent.