Learn all you need to know about shingle roofing for your home.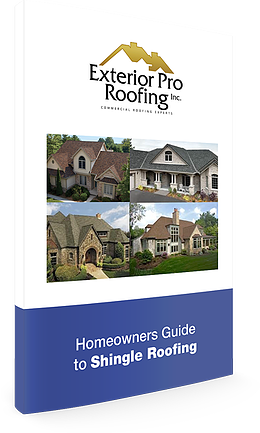 Considering new shingle roofing options for your home or property? Dealing with recurring shingle roof problems, or looking for ways to maintain your current roof for long-term performance?
The industry leading team at Exterior Pro specializes in much more than just commercial roofing systems; we're also residential shingle experts. We seek to be much more than a roofing repair and installation company. Rather, we strive to be your go-to resource for all things roofing knowledge.
In our guide on shingle roofing, written with home owners and their property interests in mind, we put complex roofing structures and various roof types in layman's terms. With our detailed guide on shingle roofing, we hope you'll find the answers to all of your home roofing questions and more. You'll find useful information on:
The most common roof shapes and shingle styles for residential properties
How to troubleshoot for frequent shingle roof problems, including algae growth, mildew and poor attic ventilation
Installation or everyday maintenance mistakes to avoid
Accessories to extend the life and performance of your home's shingle roofing system
The best shingle roofing systems available for your budget
Fill out the provided form to access your free home shingle roofing guide today.