Seymour, Indiana Roofing Contractor
Exterior Pro Inc specializes in commercial roofing and is proud to service Seymour, IN. The services include flat roofing, metal roofing and asphalt shingles. We are expert roofing contractors and will take on any project. Our goal is to save your business money with a professional install.
Founded in 2006 and based in Madison,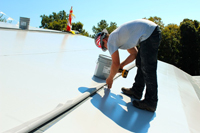 Indiana. Our headquarters is located at 2936 Clifty Dr. We have proudly served Southeastern Indiana and the Greater Louisville KY area since 2001. We also service the greater Cincinnati area. Contact us today to discuss your project and its proximity to our general service areas.